Image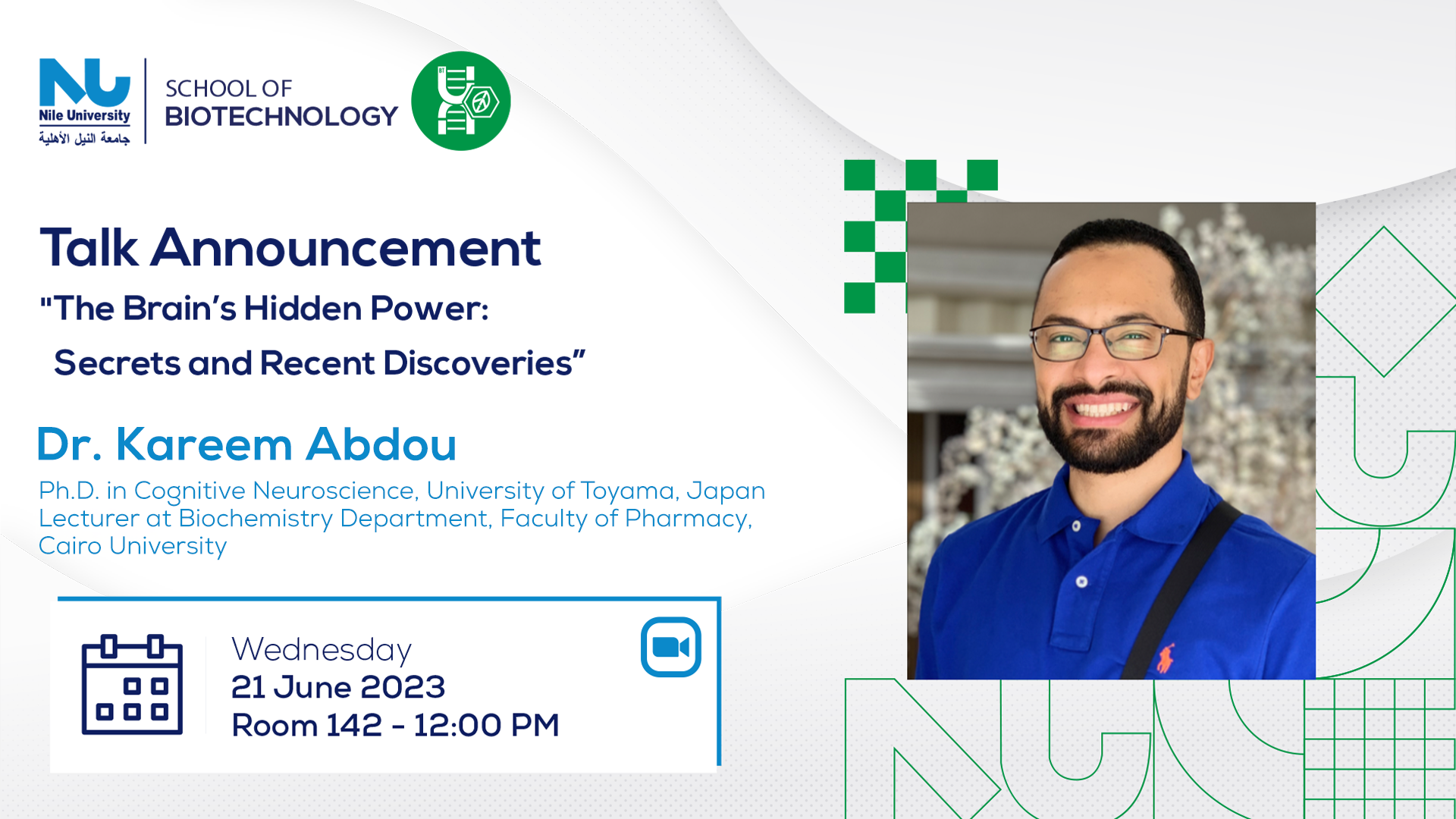 Dr. Kareem Abdou Holds a Talk on Cognitive Neuroscience
Nile University's School of Biotechnology has the pleasure of welcoming a visit from Dr. Kareem Abdou, a leading researcher in the field of Neuroscience at the University of Toyama in Japan. Dr. Kareem will give a talk on "The brain's hidden power: secrets and recent discoveries".
The talk is open to the public and will be held on Wednesday, June 21st, 2023, at 12 noon in UB1 Room 142.
To sign up for the talk, please register on:
The brain is the most complex part of the human body. It is the seat of intelligence, interpreter of the senses, initiator of body movement, and controller of behavior. Although we know a lot about brain functions, we still do not know a lot. The neuroscientists' mysterious question, 'Can our brain understand our brain?' remains without a clear answer. Recently, neuroscientists have been pushing the boundaries of brain dynamics daily, making progress in thousands of projects at a pace that paradoxically aggravates and thrills. In his talk, Dr. Kareem will shed light on the recent advances in brain research and discuss the hidden power of the brain. He will discuss how neuroscientists control rodents' behavior and how they supervise their thoughts.
Dr. Kareem Abdou's Biography:
Dr. Kareem received his Ph.D. in Cognitive Neuroscience from the Faculty of Medicine at the University of Toyama in Japan. His Ph.D. study was published in the 'Science' journal and was featured in several newspapers and TV shows. Then, he served as an assistant professor for 3 years at the Graduate School of Innovative Life Science at the University of Toyama in Japan. He received several awards, including the 'Academic Commendation Award' from the Dean of the School of Medicine at the University of Toyama. His work focuses on the cognitive functions of the brain. Dr. Kareem currently serves as a lecturer at the Biochemistry Department, Faculty of Pharmacy, Cairo University.